5 New Things to Try With Your Dog This Summer
5 New Things to Try With Your Dog This Summer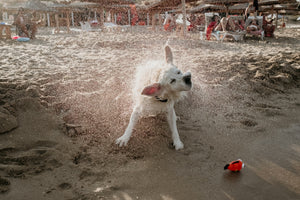 5 New Things to Try With Your Dog This Summer
We all know that summer goes by quickly, especially when you're having fun. Summer is a time to cram in as much fun as you can with your friends, family, and of course, your pup!
It's important to spend quality time with your dog just like it's important to spend quality time with your family, so we've come up with some fun things you should try with your dog before these summer days are over.
Try a few or try them all—these activities are great ways to bond and make memories with your pup as well as your family.
Go on a Road trip
Our dogs enjoy being with us wherever we are, so why not bring them along on the road! If you're taking a trip, either for a day or for a week, bring your dog with you if you're able to. There are lots of pet friendly hotels and sites that you can stop at all over the state or the country.
If you don't want to find a pet friendly hotel but want to bring your pup on a trip, camping is good idea. Camping provides the perfect outdoor space for your dog to explore and enjoy playtime with you and your family. Whenever you bring your dog on a trip, be sure to prepare well. Research the places you're going to make sure they allow pets.
It's important for dogs to be exposed to as much as possible, so taking a road trip will help ensure they are properly socialized to several surroundings, and they get quality time with you!
Take Your Dog to the Beach
Just like there are pet friendly hotels and parks, there are also pet friendly beaches. All the wide-open space is great for exercising your dog and the water helps keep them cool.
Come prepared with toys, plenty of water and treats, as well as doggie bags. Be sure you have a durable leash as well.
Making memories at the beach is a great tradition for many families, so bring your pup along to let them soak up those sweet days, too!
Take a Photoshoot With Your Dog
Most of us snap pictures of our dogs when they're doing something cute or funny. It's also a great idea to take planned pictures of your dog. Summer is a great time to do this because everything is green and lush outside. We suggest taking your pup out in the yard or to a park to snap some pictures of them!
Try to get your dog to pose if you can. Use treats and toys to get their attention so they'll sit or stand still. Maybe even bring a friend along with you to take some pictures of you with your dog!
Go to a Dog Park
While there are parks that simply allow pets to accompany their owners, don't forget that there are actual dog parks specifically for dogs!
These parks are great ways to let your dog interact with other dogs and people. Socialization is very important for any dog, and it's best to start when they're puppies to ensure they are well-rounded when they grow up. 
Dog parks are wonderful for exercising and socializing your dog, and summer is one of the best times for it! The days are longer, and there's no better time for a walk or a game of fetch.
Plan a Doggie Fun Day
Do you have friends with dogs? Invite everyone over and have a pup-party! Plan a BBQ or grill out so that everyone has plenty of space. If you have a fenced-in backyard, utilize that space so that the dogs have a place to play. If you don't have a fenced-in area or a big back yard, consider going to a campground for the afternoon or a park where everyone can meet.
Dogs need to be exposed to other dogs and people, so it's a good idea for them to interact with your friends and their dogs as often as possible. Our dogs need friends, too!
Give Your Pup a Fun-Filled Summer!
While you're grilling out, catching fireflies with the kids, and sipping lemonade by the pool, don't forget to do fun things with your pup as well. They are part of the family, after all, and they want to be involved in whatever you're doing.
Take some time this summer to enjoy your dog's company—they will love it because they love you!